ALL Together
ALL Together
ALL Together (AT) is the Upper Valley multi-organization collaboration to reduce the impact of alcohol and drug misuse. AT covers Canaan, Dorchester, Enfield, Grafton, Grantham, Hanover, Lebanon, Lyme, Piermont, Plainfield, Orange, Orford, NH and Hartford, Norwich, VT. AT prioritizes the implementation of evidence based programs, policies, and practices including community engagement. AT is recognized as the Substance Misuse Prevention workgroup of the Public Health Council of the Upper Valley and is also nationally recognized as a Drug Free Communities Coalition.  AT is funded by the New Hampshire Bureau of Drug and Alcohol Services, the New Hampshire Charitable Foundation, the Substance Abuse and Mental Health Services Administration (SAMHSA) and by Dartmouth-Hitchcock.
Angie Leduc, ALL Together Drug Free Communities Partnership Coordinator
Aita Romain, ALL Together Regional Substance Misuse Prevention Coordinator
Black River Area Community Coalition

BRACC—promoting a healthy involved community, supporting all youth in safe environments.
Black River Area Community Coalition
Brigid Sullivan, Coordinator
PO Box 197, Ludlow, VT 05149
Phone/fax (802) 228-7878
[email protected]
The Collaborative
Mission: The Collaborative promotes the development of a healthy, involved community supporting substance free youth in a caring environment. Get Involved!
Serving Windsor County including Cavendish, Chester, Andover and Weston towns, Bennington County and Windham County
Contact: Maryann Morris, The Collaborative, 91 VT Route 11, Londonderry, VT 05148. 802-824-4200
Website: www.thecollaborative.us
Communities United
Communities United
United in our commitment to work for a stronger, healthier Sullivan County community. Alcohol and drug abuse hurts families and drains our communities of valuable resources.
Contact: Bridgett Taylor
Dartmouth-Hitchcock
Dartmouth-Hitchcock
Imagine a health system that focuses on health, not just health care.
Greater Sullivan County Public Health Network
Our network is governed by local community leaders who serve on the Public Health Advisory Council and funded by federal grants, local nonprofits, and Dartmouth-Hitchcock. GSCPHR is one of 13 public health regions in NH and comprises 15 towns, one city, approx. 47,000 people and two hospitals (Valley Regional Hospital & New London Hospital).
Contact: Jacqui Baker
Website: http://gscphn.org/
Hartford Community Coaltition

Hartford Community Coalition
Building a healthier Hartford community.
Health Connections of the Upper Valley
Health Connections is a health education, health promotion non-profit organization that focuses on developing healthy communities by bringing people and resources together to achieve healthier lives.
Contact: Catherine T. Hazlett
Website: www.hcuv.org
Mount Ascutney Prevention Partnership
Mount Ascutney Prevention Partnership
A prevention coalition focused on health in all policies and working to limit the adverse effects of alcohol, tobacco, and other drugs.
Contact: Courtney J. Hillhouse
NH Bureau of Drug and Alcohol Services
NH Bureau of Drug and Alcohol Services
Supporting Prevention and Recovery for the people of New Hampshire
Ottaquechee Community Partnership (OCP)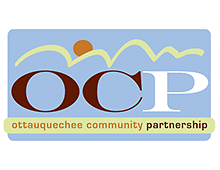 OCP's mission is to engage individuals and organizations in developing healthy environments and positive intergenerational relationships in the Vermont towns of Barnard, Bridgewater, Killington, Pomfret, Reading and Woodstock.
Contact: Jacqueline Fischer
Website: www.ocpvt.org
Public Health Council of the Upper Valley
The Public Health Council of the Upper Valley
Improving regional health and reducing the burden of health care on residents, employers, and communities.
Contact: Alice Ely
Upper Valley Lake Sunapee Regional Planning Commision
Upper Valley Lake Sunapee Regional Planning Commission
Planning the future of our communities since 1963
Contact: Vickie Davis
Vermont Department of Health

Vermont Department of Health
Working to prevent and eliminate the problems caused by alcohol and other drug use in Vermont.
Visit the HealthVermont.gov website
Windsor County Prevention Partners